1-800-ADOPTION
Thank you for viewing our profile
If you would like to learn more about us, please call 1-800-ADOPTION (2367846), fill out the form at the bottom of our on-line profile page, or email us at bp_information@americanadoptions.com.
To revisit our on-line profile page and view our profile video at American Adoptions, simply use your mobile phone to scan the QR code on the right. We are looking forward to hearing from you!
Derek & Sarah
Welcome to the 2D version of our family, thank you for taking the time to get to know us. Nothing brings us greater joy or fulfillment than being parents and from the bottom of our hearts we know we can provide a positive, loving and wonderful home for a child to grow up in. We hope you will do us the great honor of considering us in your decision.
About Us
Job
Business Development, Lunar Exploration
Stay at Home Mom
Education
Master's Degree in Space Systems Engineering
Master's Degree in Organizational Management
Relationship
Legally Married
Our Children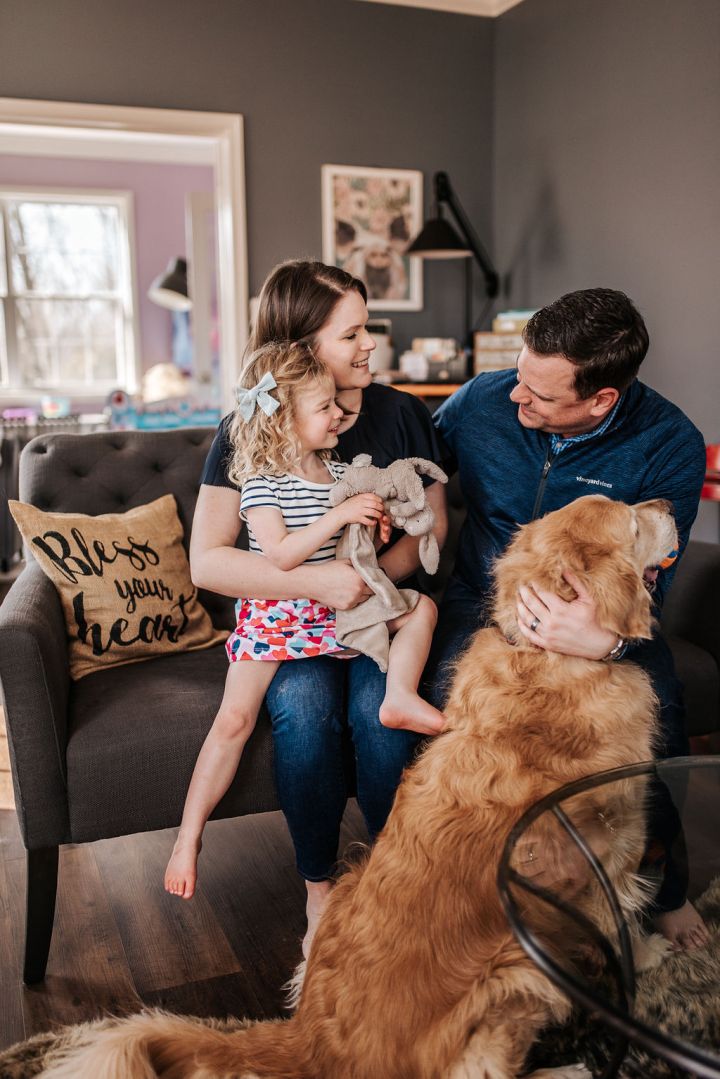 We are beyond blessed to have a spunky, opinionated and caring daughter. She keeps us on our toes and constantly laughing. Anyone who meets Mary learns two things very quickly, she isn't shy and she loves to talk even if you don't really want to listen. Instead of telling you about her, we will let her tell you about herself
Interview with Mary, May 2021, Age 3 1/2
Q: What's your favorite thing to do with mommy?
A: Go to Target and adventures, oh and cooking, I like cooking dinner too.
Q: What is your favorite thing to do with daddy?
A: Play in the basement, we like to go run in the basement and golf and basketball.
Q: What do you want to be when you grow up?
A: A doctor because I want to make sick people feel better.
Q: Do you want to be a big sister?
A: Yes, totally!! I really like babies and want one in our house too.
Q: What are you going to do with a new baby?
A: Play with the baby, feed the baby, love the baby just like I love mommy and daddy, and show the baby our dog Pike.
Q: What's your favorite thing to do?
A: Playing and helping mommy and daddy do things. I am a really good helper.
Our Dreams for this Child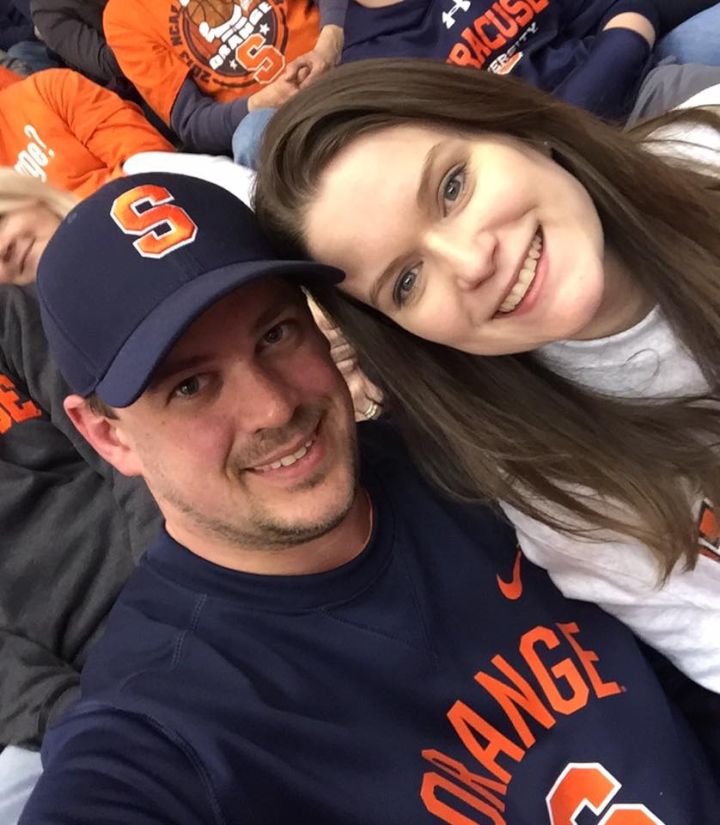 We have a piece of artwork on the wall of our family room that reads: "One day, when my children are grown, I hope they still come through the front door without knocking. I hope they head to the kitchen for a snack, slump on the sofa to watch TV. I hope they come in and feel the weight of adulthood leave them for they are home. For my children, my door will forever be open." That hits the nail on the head for our dreams for our family.
We can't pretend to know what our daughter and adoptive child will want for their future- traditional career or artist, big family or flying solo, action and adventure or quiet and domestic- but we can dream that wherever life takes them, they know our love is strong and our home is always theirs too.
We dream that: they are true to themselves; live their lives in a way that gives back to others; find love, friendship and passion; and call and visit their parents frequently.
Qualities We Love, Admire and Respect in Each Other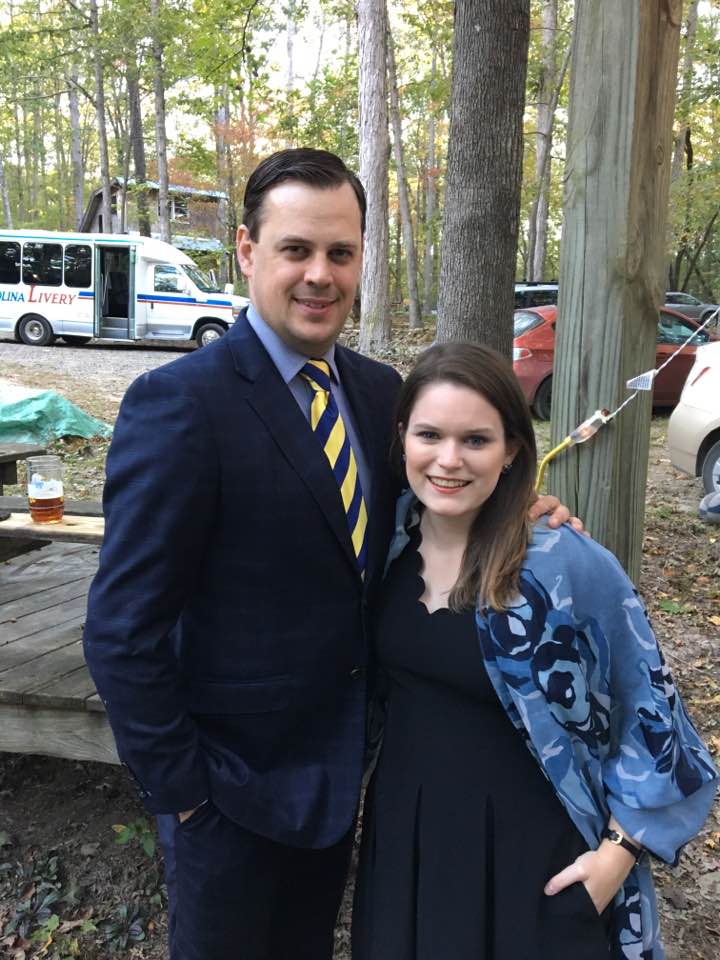 Sarah about Derek: 
Derek is the most loyal and hard-working person I have ever met. If he says he is going to do something, build a patio, help a coworker, redo the playroom, he will not only do it, he will give it all he has got and then some.
I also love Derek's playful side, joking, running around with the dog and singing at the top of his lungs to get a rise out of Mary. He is always good for a laugh and smile. It is hard to sum up all the things I love and respect about my husband but at the end of the day his commitment to our family, his love for us and the way he stays true to himself rank at the top of the list. 


Derek about Sarah:
If there are parallel universes, I'm probably living in my best one because of having Sarah to compliment me. She was built to be a mother in every sense of the word - not just for our daughter (and her dog), but as the enabler that I need to be successful. She's the strongest person I've ever met with all that she put herself through physically and emotionally to grow our family through fertility treatment, and now in this process.
I'm sure you read countless glowing narratives like these, but words cannot express the love, support, and strength she gives to her family.
Photos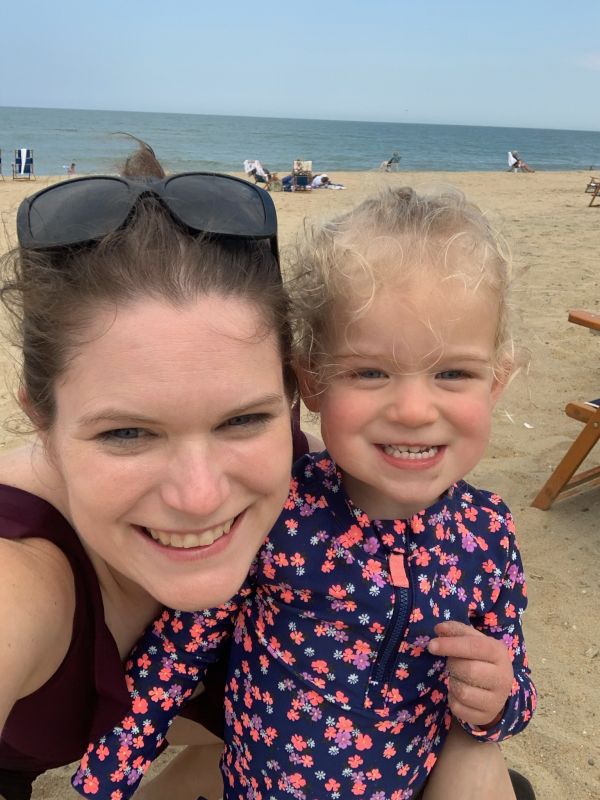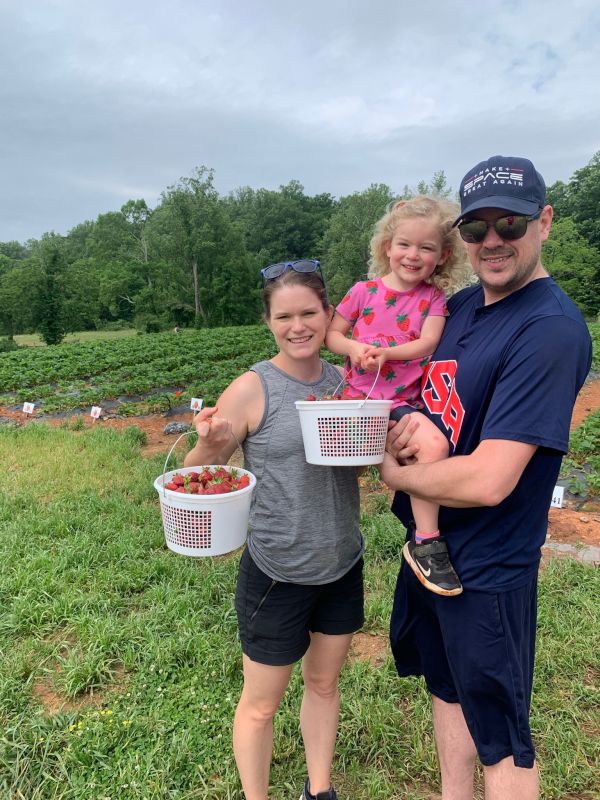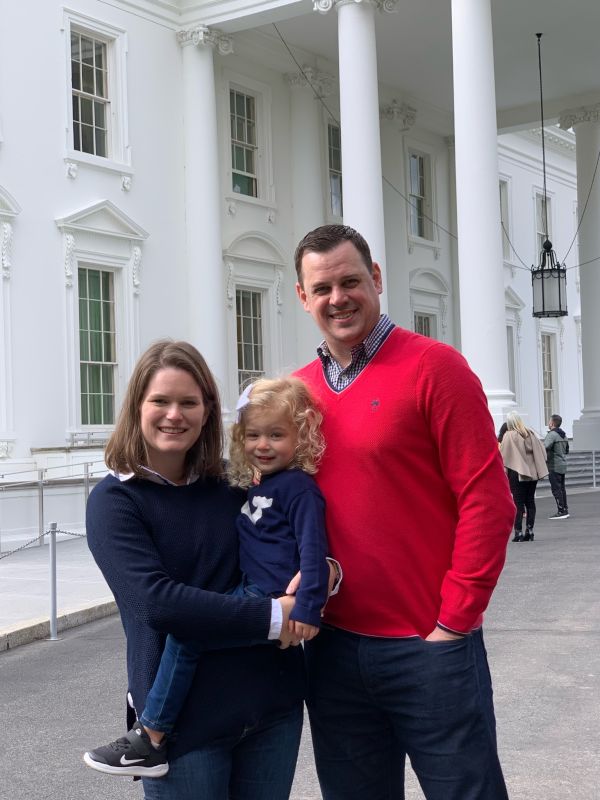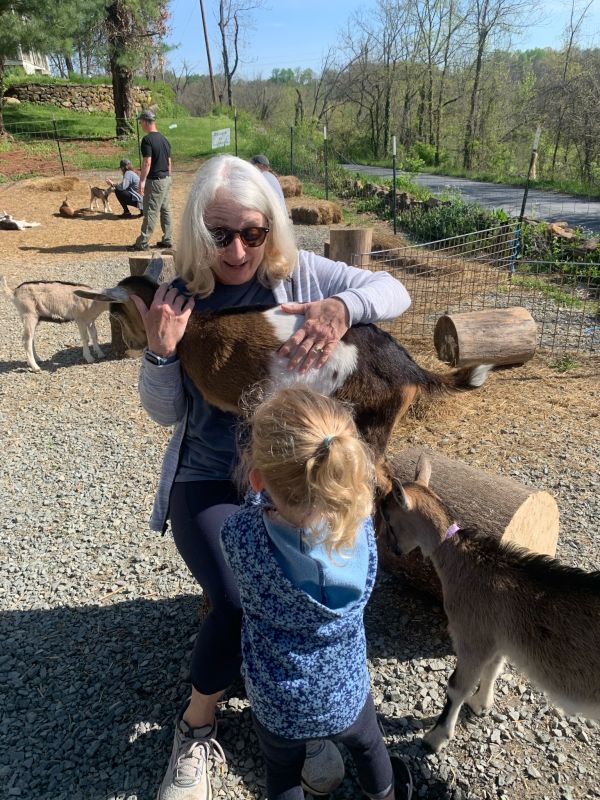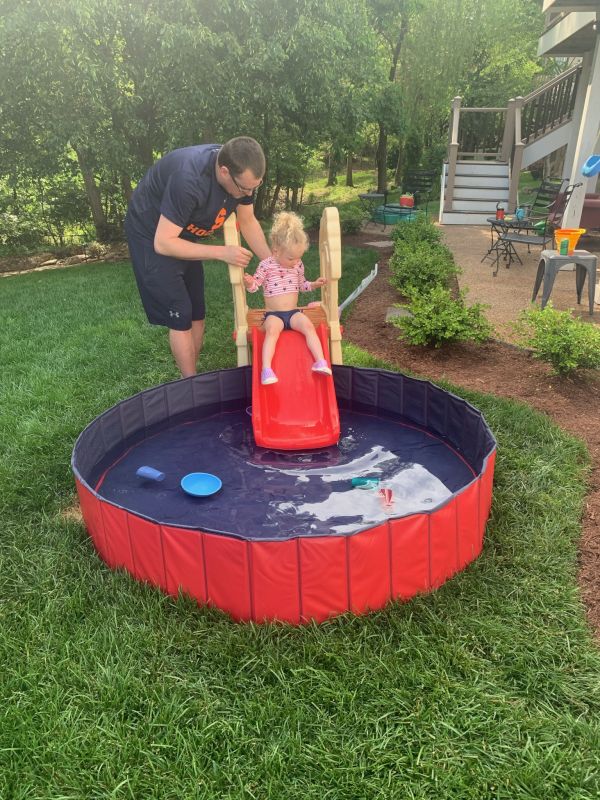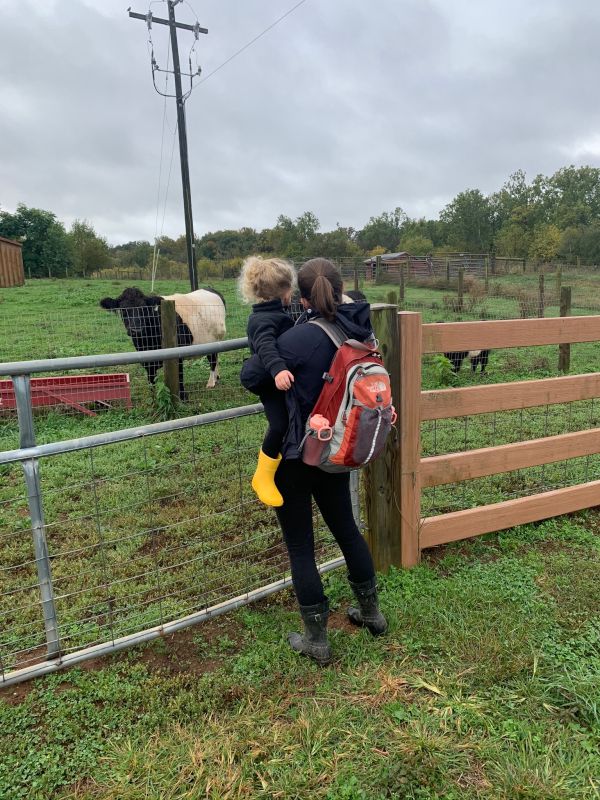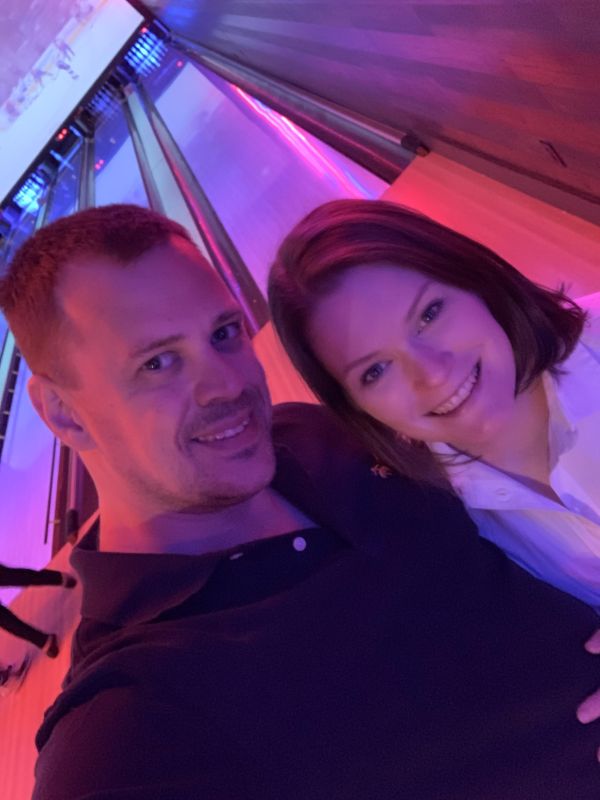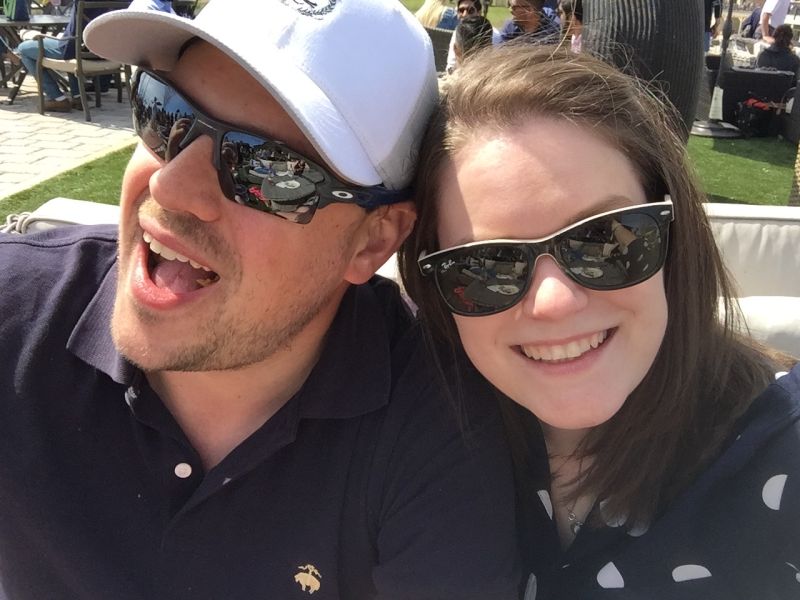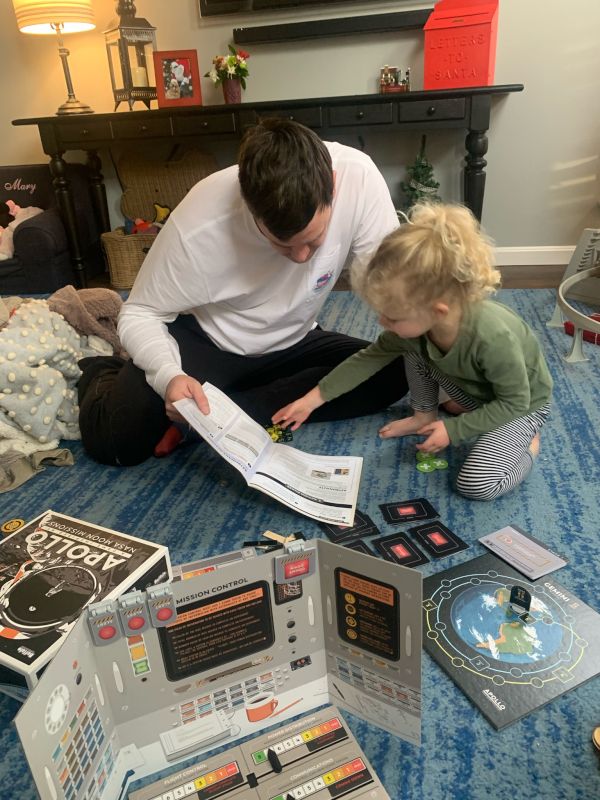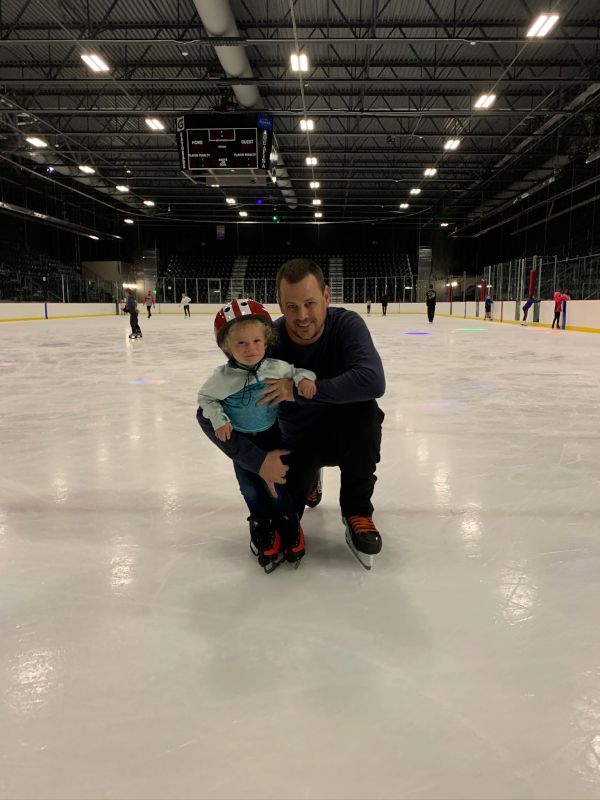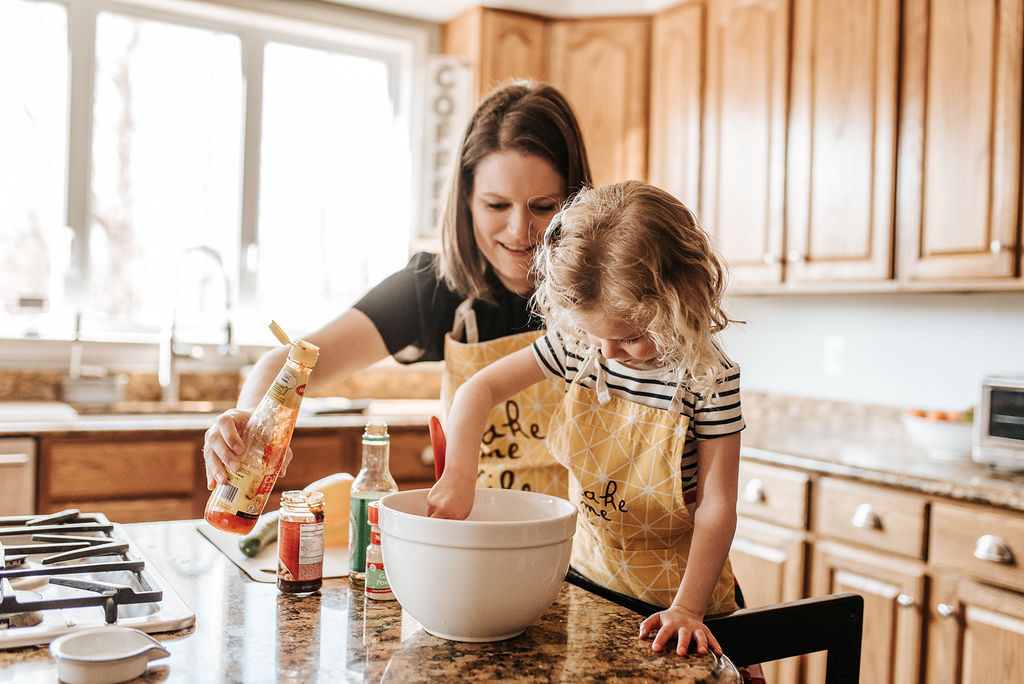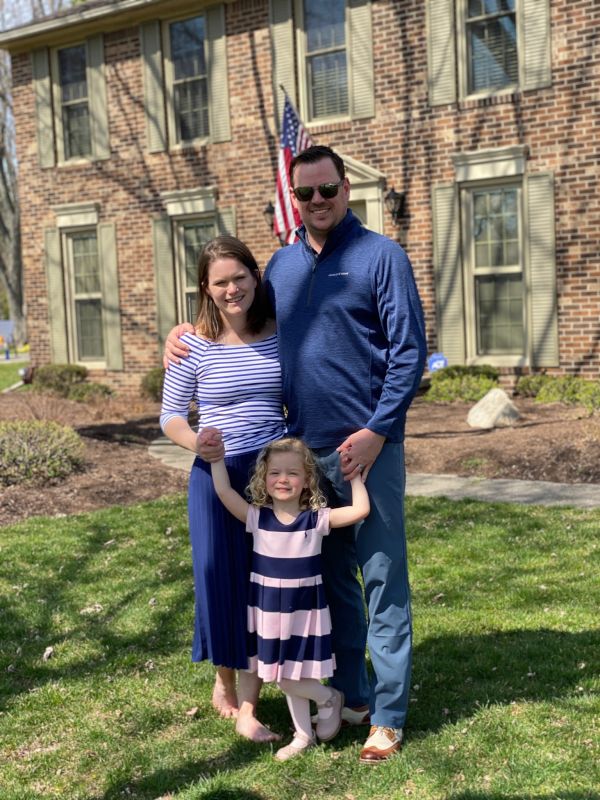 ×
1 / 12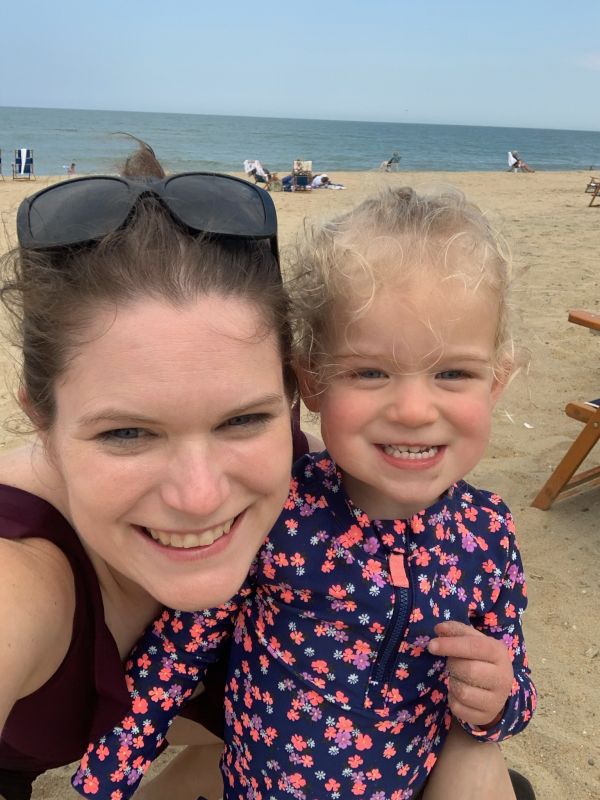 2 / 12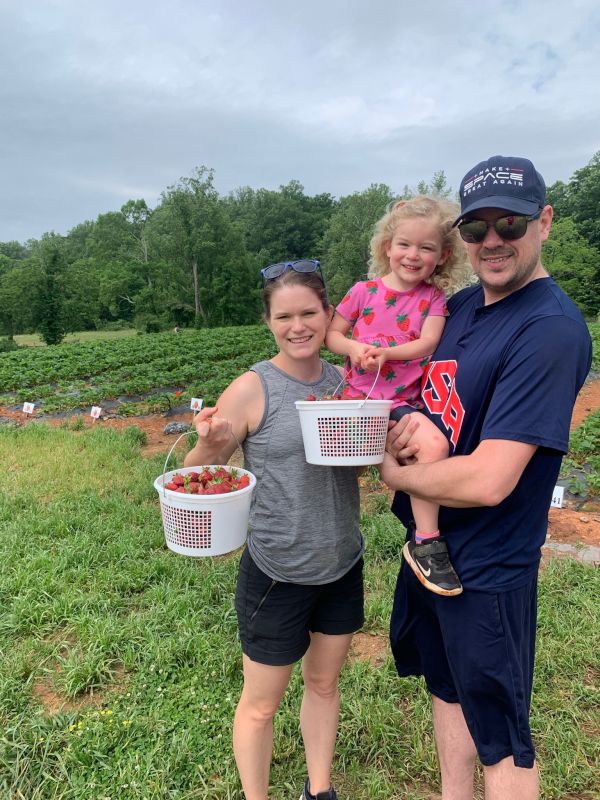 3 / 12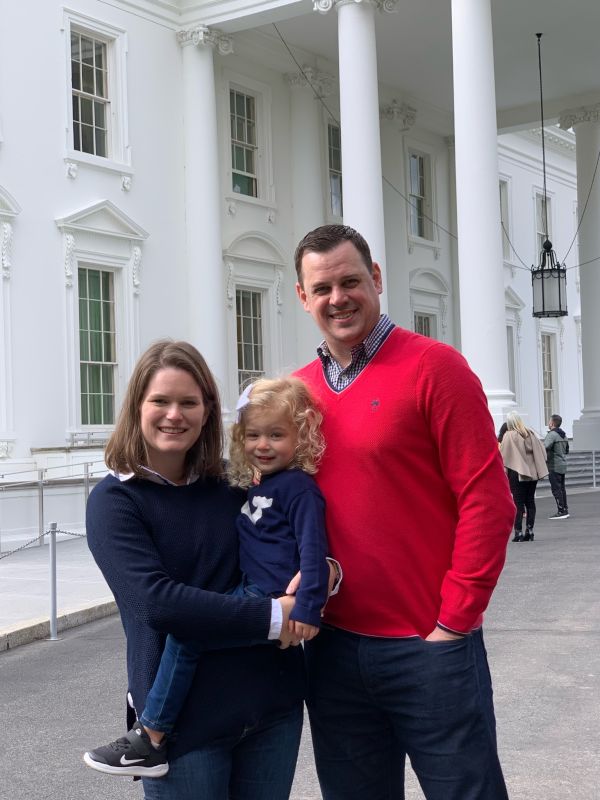 4 / 12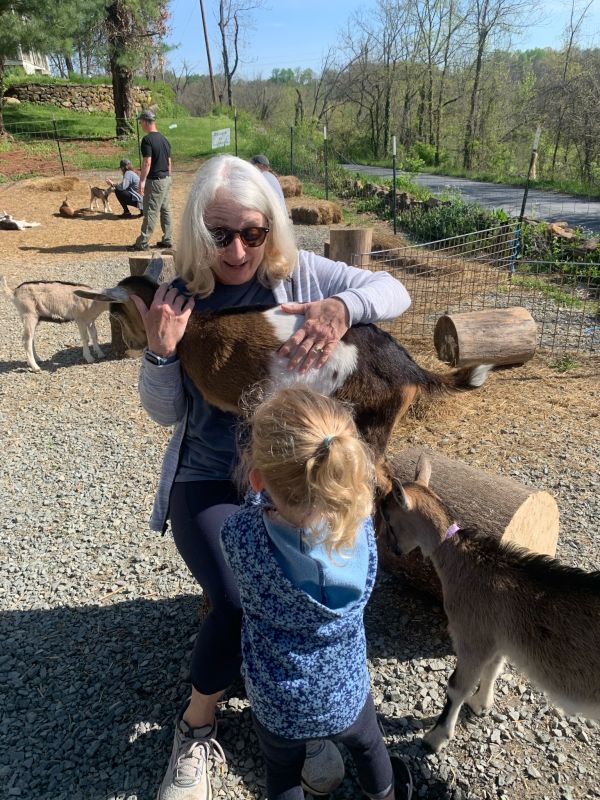 5 / 12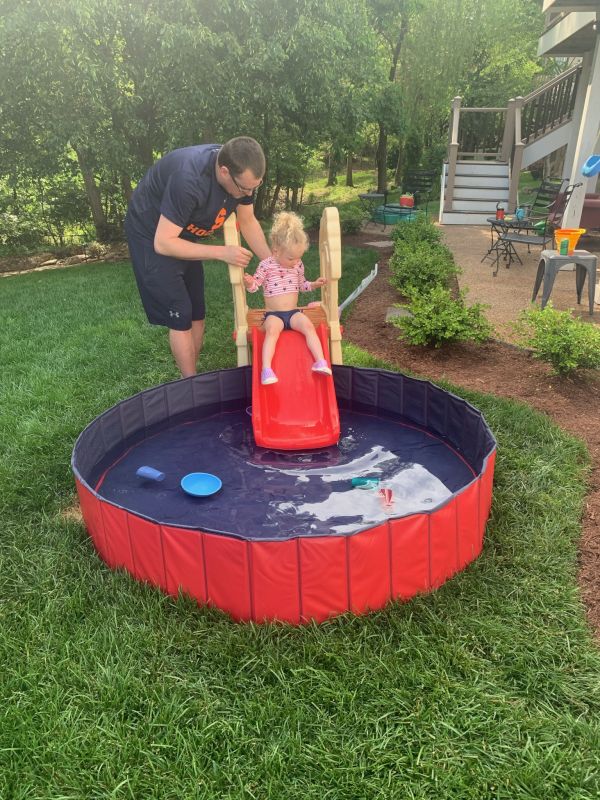 6 / 12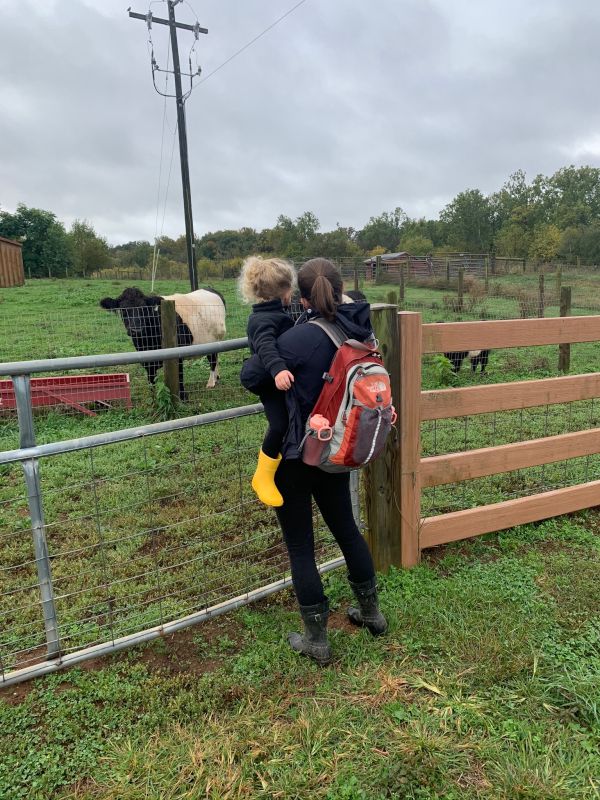 7 / 12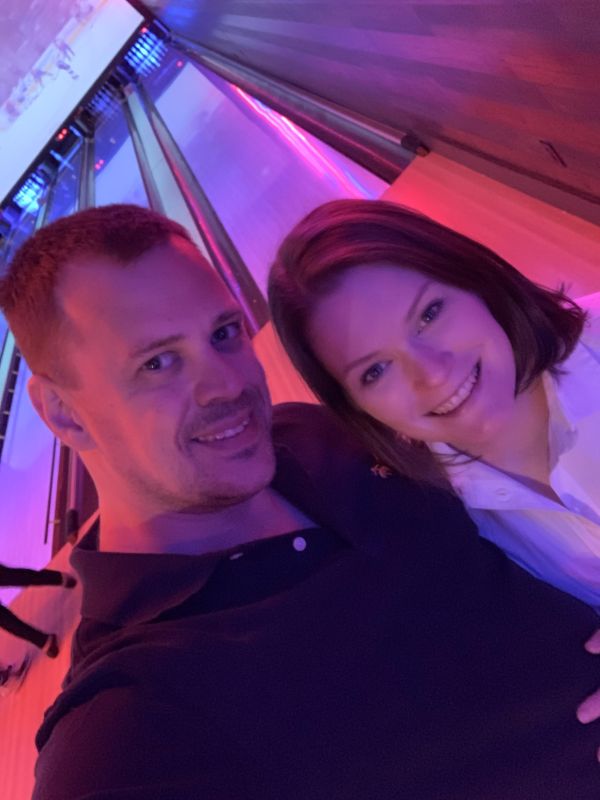 8 / 12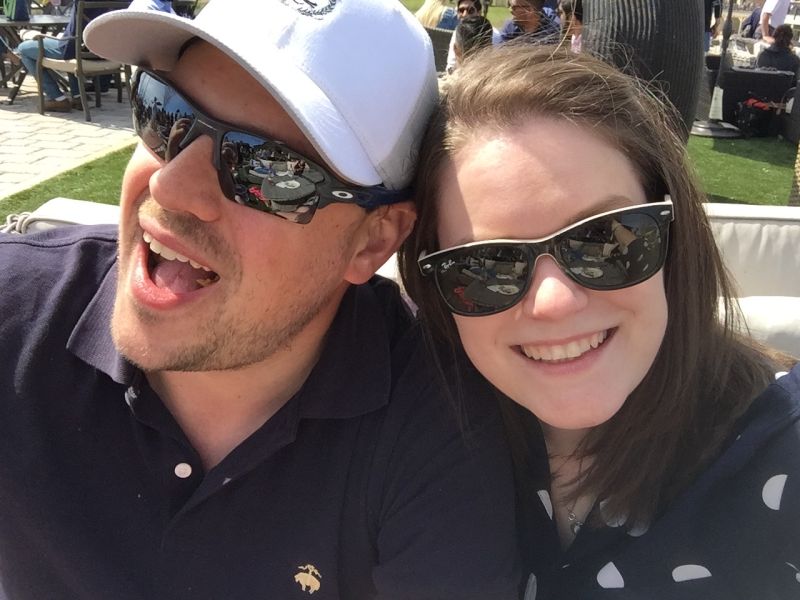 9 / 12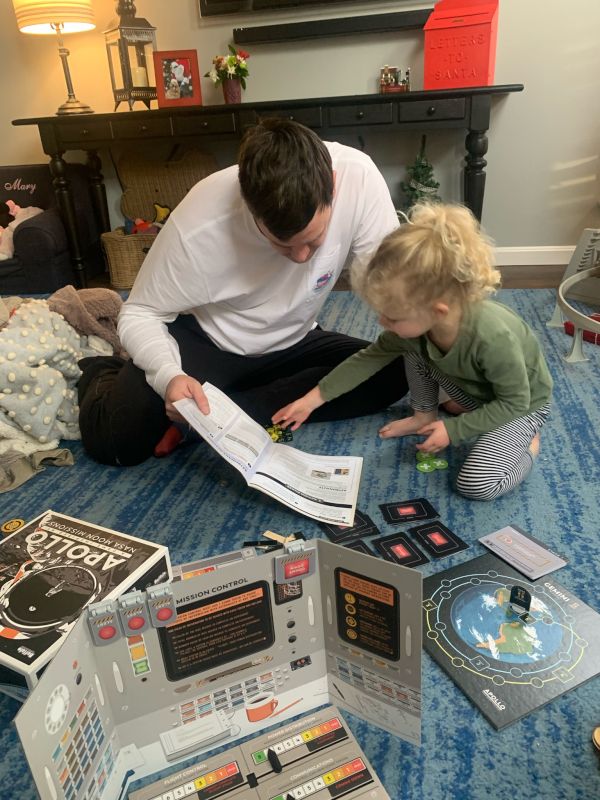 10 / 12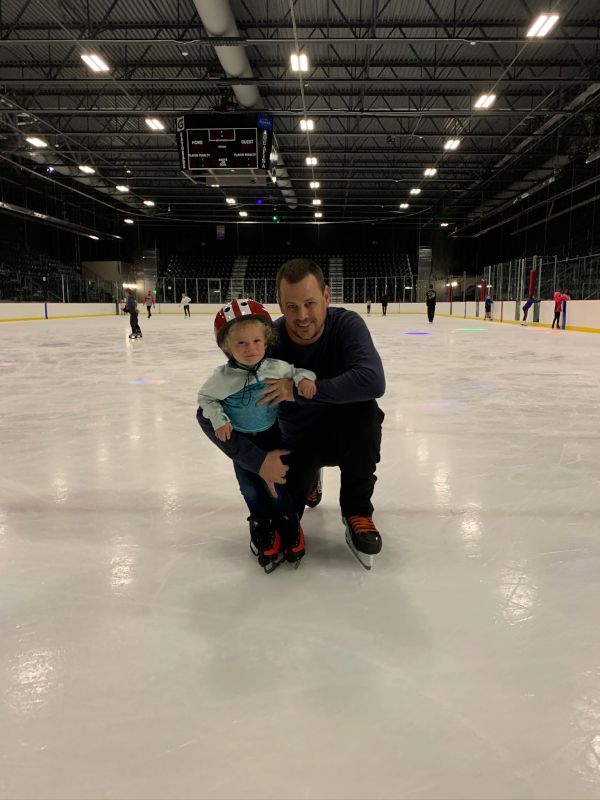 11 / 12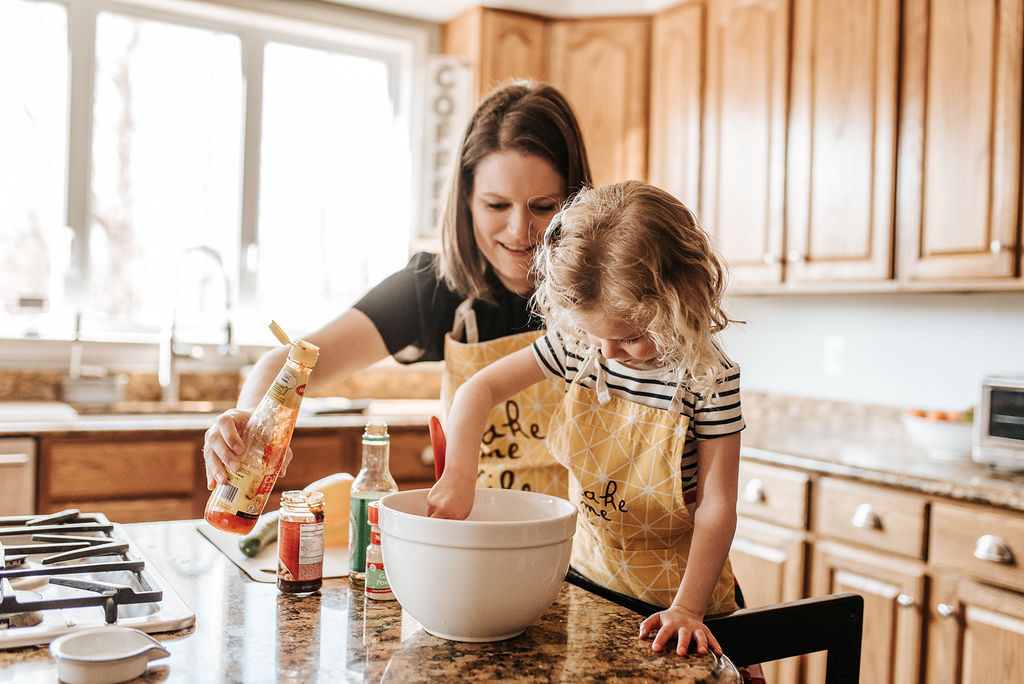 12 / 12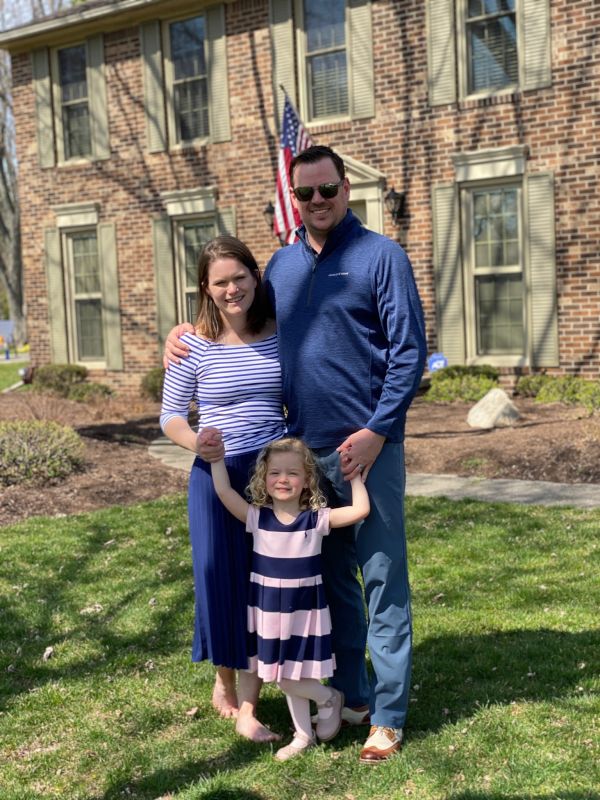 ❮
❯
Our Extended Families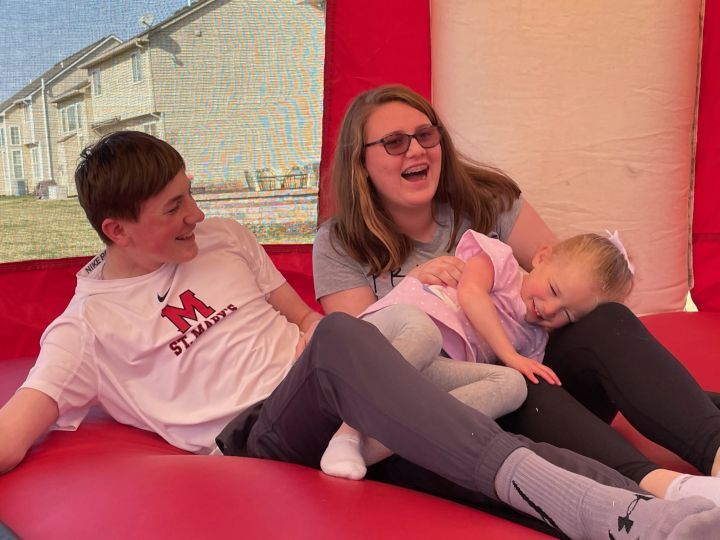 Thanks to FaceTime, phone calls, and lot of visits, our families play a large role in our daily lives despite all living states away. Derek grew up in Michigan where his parents, sister and her family still live. Sarah grew up in North Carolina and her family still lives there. When we married both of us were worried that living away from our extended families would be a struggle, but the distance has not hampered our extended families' connection with their granddaughter and with us. Grandpa dressed up as Santa for our very Covid Christmas and made a little girl's dreams come true. Grandma and Mary FaceTime daily for crafts or just to chat. Nana and Papa kept the family tradition alive and took Mary to her first baseball game. Memories are made in the little moments during frequent visits and through the magic of technology. In addition to being active grandparents, our parents are also huge mentors and friends to both of us. Derek and his Father have shared a lifelong bond through sports, and they continue to be very close. Sarah's mother is undoubtedly her best friend, confidant and role model for what a great mother should be. There is no shortage of love for us and support for our decision to adopt. Any child who joins our family will be welcome with open arms and giving hearts from all sides of the family and our guest rooms will get plenty of use!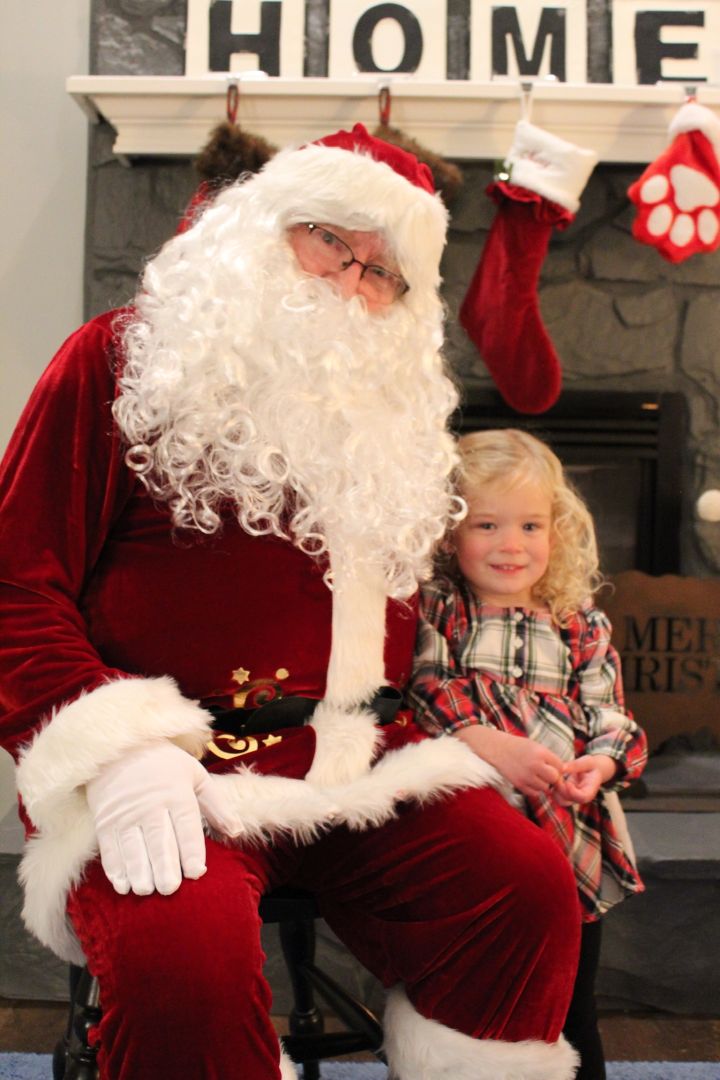 Our House and Neighborhood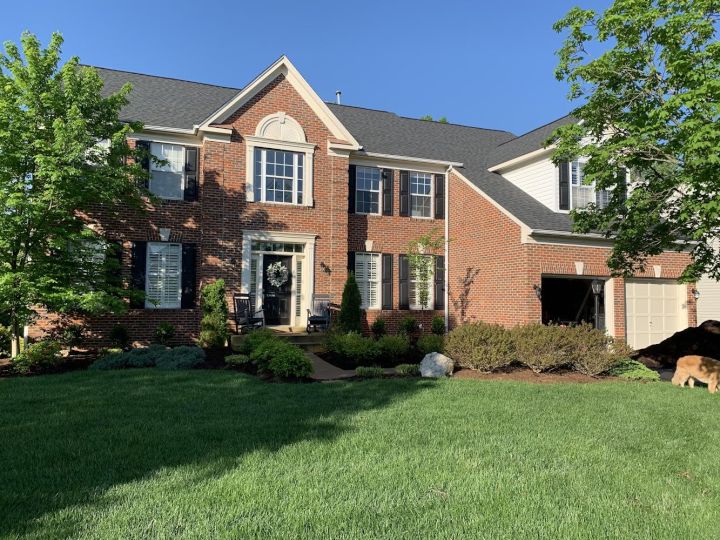 There is little that better describes where we live in Virginia than family-oriented, which is one of the reasons we moved here in the first place. From hiking trails, parks, playgrounds and family-friendly farms to festivals, wineries, and historic downtown, we have barely scratched the surface of all there is to do here. Our neighborhood includes a pool, a very active HOA and tons of other families. Our county is known for its excellent public schools and access to any extracurricular activity one could dream up.
What we love about both our house and our area is that there is plenty of room to grow as our family grows. We have a 5 bedroom home, have converted the first-floor office into a little kid's playroom heaven, and a basement with plenty of room to run around in. The basement also houses Derek's permanent office. Our backyard backs up to a small wooded patch that's perfect for imaginary adventures and romps with our dog. We have worked to carve space in our house for every member of the family- two beds in the master bedroom for the dog, a museum-quality display of all of the sports memorabilia gained through the years of Derek and his Dad's sports bonding, a mini-golf hole and basketball court in the basement for family fun.We can't wait to find ways to add to our house to include another child's interests and needs.
From Us to You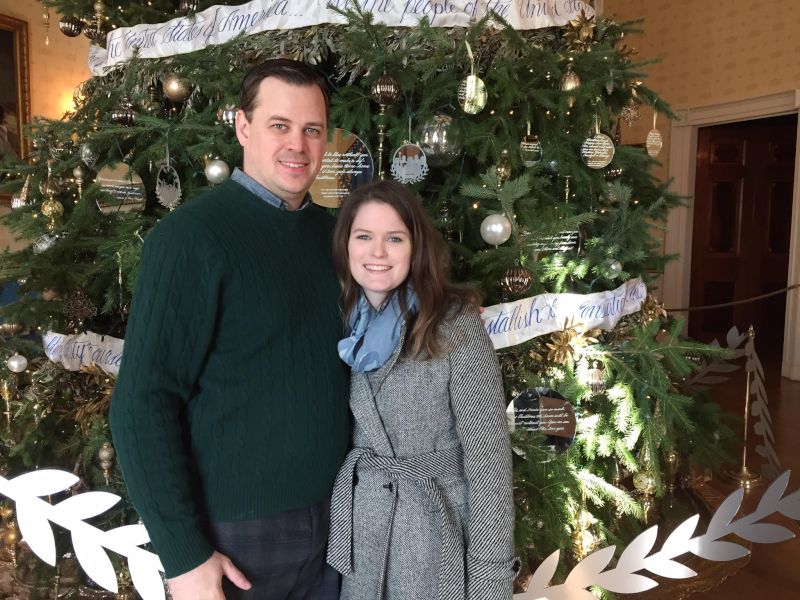 This has to be one of the most unique ways we have ever met someone, you at the precipice of the hardest decision of your life and us with crossed fingers and hopeful hearts that our words are able to connect with you in a meaningful way. Without being able to ask you what you would like to know about us, here is a little of what we think is important about our family and the home we can provide for the child.
We have been together for 10 years, married for 7, bought two houses, lived in 3 states, house trained a puppy, had a daughter and so many other milestones in between. One thing that has stayed constant through everything is our support for each other and thus our support for our child and future children. When Derek wanted to change jobs to further his career we worked together to figure out the best way to make his dream a reality. When Sarah wanted to become a stay-at-home mom we navigated that transition together, from the financial implications to the emotional side of being a full time care taker (a baby is very different then a desk job). We may not always understand everything the other person wants to do but we do know how to rally the troops and help each other find happiness, navigating the hard times and doing the best for our family.
Education, both in the traditional sense and in daily doings, is of high value in our house. We both hold masters degrees, Derek taking the lead in the education race with two. But beyond the classroom we both value learning daily as well. Derek is always researching, from how to do different home improvement projects, to pausing The Crown on Netflix to read up on the historical significance of a story line. Sarah's down the education rabbit hole deep when it comes to parenting techniques and children's activities. How can we be better parents, what fun activity can we do in the rain, why don't three year olds listen and everything in between! We believe that you can constantly learn more in everything you do from the classroom to life lessons and we strive to live our lives and parent with this in mind.
Humor is also very important to both of us, neither of us take ourselves too seriously and if we do, the other is quick to point it out. Little things like jumping out from around the corner to scare the other one while of course filming their reaction, to full blown water fights in the kitchen resulting in everyone including the toddler and the dog soaking wet and laughing, keeps things fun in our daily lives. Sarah's parents always say "what did we laugh at before we had kids" and we certainly agree but also have to add that we laugh at ourselves plenty too.
We hope that through this letter and our profile as a whole, you can picture the warm, supportive and funny family we have worked hard to create. There is nothing we want more than to open our hearts and home to a new family member, adapting and growing the life we have now to welcome the child, getting to know him or her, and surrounding them with the love everyone deserves to grow up with. We cannot begin to understand the decision you are facing, but know this, any child in our family will learn to take chances, find themselves, explore their passions and know they will always have our love at the end of the day. We plan to show you the growth and life of the child through letters and pictures, finding solace in smiles and stories of what we hope will be a happy and wonderful life for the child.
Thank you for taking the time to get to know the 2-D version of us, we hope we have done justice to the aspects of our personalities and life to aide you on your difficult decision making journey.
With love,
Derek & Sarah
Favorites
Book
Harry Potter
The Storyteller
Candy Bar
Hershey's Milk Chocolate
Dark chocolate
Childhood Memory
Playing hockey
Afternoon chats with my mom sitting on the kitchen counter
Childhood Toy
Teddy Bear
American Girl Doll
Children's Book
The Giving Tree
Miles of Smiles
Day of Week
Saturday
Sunday
Dessert
Peanut Butter Pie
Key lime pie
Dream Car
Mustang Shelby GT500
Ford Bronco
Dream Job
Astronaut
Stay at home mom
Family Activity
Exploring new parks
Food
Cheeseburger
Grill cheese sandwich
Form of Exercise
Playing hockey
Running
Hobby
Working around the House
Fitness
Holiday
Christmas
Christmas
Holiday Song
Oh Holy Night
Holiday Tradition
Opening stockings in bed
Ice Cream
Chocolate chip cookie dough
Leisure Activity
Watching Sports
Running and Reading
Memory with a Child
Dancing with Mary when she was a Newborn to calm her every night before dinner
Cooking with my mom
Memory with Spouse
Taking Sarah to the last Space Shuttle launch
Singing bad pop songs with the car top down
Movie
Shawshank Redemption
Olympic Event
Figure Skating
Quality about my Spouse
She is a Caretaker
His Loyalty
Sandwich
Philly Cheesesteak
All of them
Sport to Watch
Baseball
Golf and baseball
Sports Star
Steve Yzerman, Detroit Red Wings
Sports Team
Detroit Tigers
Detroit Tigers
Tradition
Morning family cuddles in bed
TV Show
Bachelor in Paradise
Downton Abbey
Vacation Spot
Virgin Islands
Get in Touch
Provide more information, so American Adoptions can connect you with this family.
---