Your Complete Guide to Adoption Agencies in Kansas
Includes Attorneys, Law Centers and Facilitators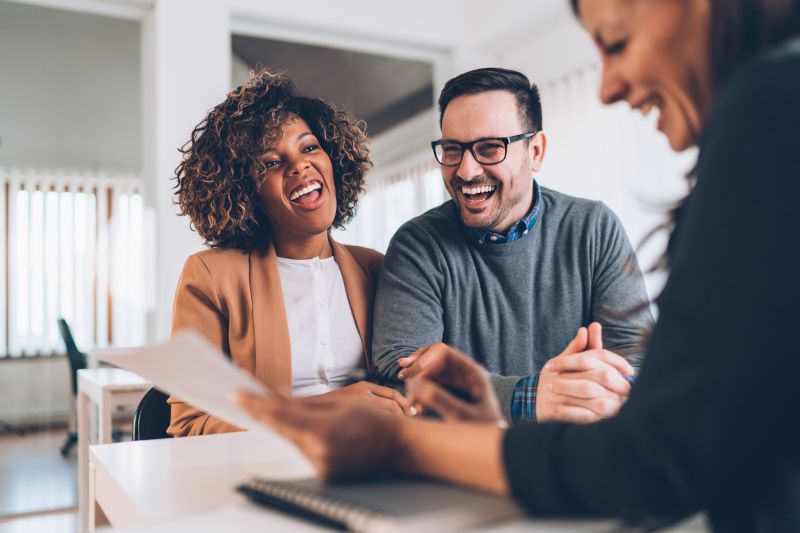 Whether you're a hopeful adoptive parent or a prospective birth mother, educating yourself about adoption can quickly become stressful. One of the most significant parts of the process is making sure that you choose the right adoption professional to help you.
But, one of the most exciting aspects of adoption is how many options you have. For prospective birth mothers and adoptive families alike, having more choices gives you more autonomy throughout the adoption process. Deciding what type of adoption professional you want is one of these big choices.
Generally speaking, adoption professionals can be broken down into four types. First of all, there are adoption agencies in Kansas, which are the most popular choice. There are also adoption attorneys, adoption law centers and adoption facilitators. We'll go into more detail on each type of adoption professional below.
If you'd like to speak to an adoption agency in Kansas today, we're happy to talk. American Adoptions of Kansas is here for you at 1-800-ADOPTION.
Adoption Agencies in Kansas
Although adoption is a beautiful process that can bring joy to all parties involved, it can also become a challenging, long process, especially if you don't understand its intricacies.
That's why Kansas child adoption agencies exist. They will handle all facets of the adoption, such as matching the perfect adoptive family with the right birth mother, providing counseling services, mediating contact between the birth mother and adoptive family, covering legal fees and more. But, it's worth mentioning that there are different kinds of adoption agencies in Kansas. Here are a few of them:
Private Adoption Agencies: In a private adoption, the birth mother voluntarily places her baby up for adoption with a family of her choice. Private adoption agencies in Kansas facilitate this process and can be further broken down into two sub-categories: local adoption agencies and national adoption agencies. Local adoption agencies in Kansas offer the same services as a national agency, but they work only with birth mothers and hopeful adoptive families in Kansas. National agencies, on the other hand, work across the country, which can mean shorter average wait times for hopeful parents and a larger selection of adoptive families for prospective birth mothers.
Foster Care Agencies: Foster care adoption differs from private adoption because, usually, birth mothers don't voluntarily place their child for adoption. Typically, adoptive parents don't have much control over the process because the ultimate goal of foster care is reunification with the birth family. Working with the right foster care agency (also known as Kansas public adoption agencies) can make this process smoother.
International Adoption Agencies: Prospective families that wish to adopt a child from outside of the United States can work with an international adoption agency. Though this type of adoption isn't nearly as common as it was a decade ago, there are still plenty of children waiting for a loving family to adopt them. International adoptions can be fairly expensive, so make sure your budget accounts for travel and living expenses if you're a hopeful adoptive parent.
American Adoptions of Kansas is one of the leading, full-service national agencies in the United States. Our staff members are eager to help both expectant birth parents and hopeful adoptive families. Many of our team members are adoptees, adoptive parents or birth parents ourselves, so we truly understand what the adoption process is like. This allows us to offer the most informed and compassionate service possible.
Adoption Attorneys in Kansas
Adoption attorneys can be best described as legal practitioners with expertise in family law, especially in adoption. Most adoption attorneys handle the legal process but don't seek out birth mothers for their clients, which is why most hopeful families also work with an adoption agency like American Adoptions of Kansas. Though that may seem like a negative aspect, this makes a Kansas adoption attorney the perfect professional for stepparent, identified and relative adoptions.
In specific scenarios, though, an adoption attorney can try to provide services such as facilitating communication, overseeing living expenses, locating birth mothers and protecting families' financial investments. It should be mentioned that adoption attorneys aren't always trained in matters that fall outside adoption laws. An agency professional who has expertise in these areas usually provides these services.
Adoption Law Centers in Kansas
An adoption law center is a corporation owned by a licensed attorney. They've become more prevalent in recent years, and, unlike proper adoption law firms or Kansas adoption lawyers, these law centers don't provide legal adoption services. In most cases, they refer their clients to a different Kansas adoption attorney to complete the necessary legal work.
The services that adoption law centers offer can vary. Some stay with prospective families through almost the entire adoption process. But, many of them tell families to seek outside counsel once they've reached a particular point in the process.
Adoption Facilitators in Kansas
Adoption facilitators are unregulated, unlicensed organizations that match prospective birth mothers with hopeful adoptive families. Typically, these are small companies with one or two staff members who usually have no experience in Kansas adoption services. Similar to adoption law centers, most adoption facilitators advertise to locate a prospective birth mother for hopeful adoptive parents.
When we say "advertising," it's an adoption term that means finding a way to get prospective birth mothers to view adoptive family profiles. After a prospective birth mother has selected an adoptive family, the facilitator refers the birth parents and the adoptive parents to a local professional, such as an adoption agency of Kansas. Following this step, the adoption facilitator removes themselves from the rest of the process. In fact, adoption facilitators are illegal in Kansas because of their history of engaging in predatory practices.
What Adoption Agencies in Kansas Do
Choosing the right adoption agency is an important step in the adoption process. If you work with a national adoption agency, such as American Adoptions of Kansas, then this means that the agency is licensed to work across the United States. A state license ensures that the state government, or in this case, Kansas' government, will regulate, monitor and review the agency's compliance with the state's adoption laws.
When you work with American Adoptions of Kansas, you'll be working with one of the best adoption agencies in Kansas. This is because we have shorter wait times than most other adoption professionals and work with many prospective birth mothers and hopeful adoptive families simultaneously.
"I am very confident in my decision to place my son with his adoptive family and have had an unbelievably positive experience," Michelle, a birth mother who worked with American Adoptions and is now a birth parent specialist on our staff, said. "I really look forward to continuing to work with American Adoptions and all of the wonderful staff who are dedicated to making the lives of birth parents, adoptive families and the child as successful and happy as possible."
American Adoptions of Kansas also has a Risk-Sharing Program that refunds most (if not all) of the expenses you've invested into a disrupted adoption. This comprises medical, termination and living expenses as well as agency fees. This makes us not only one of the best, but the best adoption agency in Kansas.
"You're already a little wounded when you get here, but from the first conversation we had, the responsiveness was incredible," Andrea, an adoptive parent, said of American Adoptions. "I never waited more than a couple of hours for a response to an email or phone call – regardless of what time of day it was or how stupid the question was."
The bottom line: We care about adoption, and we will always take care of you.
***
If you would like to learn more about adoption agencies in Kansas or other types of adoption professionals, then get more free information now. You can also give us a call at 1-800-ADOPTION. We will help you find the support you need.
Disclaimer
Information available through these links is the sole property of the companies and organizations listed therein. American Adoptions provides this information as a courtesy and is in no way responsible for its content or accuracy.