Adoption in Overland Park [Resources]
Adoption Agencies, Hospitals and More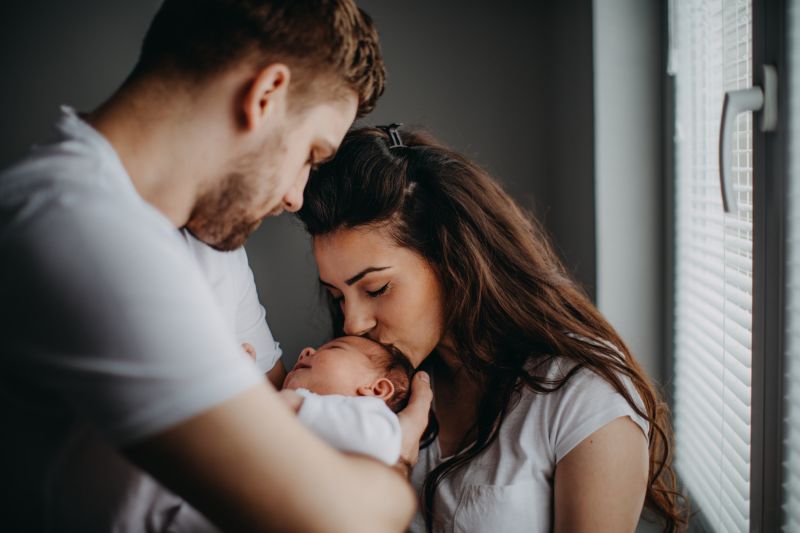 Sometimes, adoption can feel confusing and scary, but it doesn't have to be. When you have a team of experienced adoption professionals by your side, it's much more beautiful than it is stressful. Adoption is an option that can bring a better future to birth parents, adoptive families and children.
Working with American Adoptions of Kansas ensures that you have the adoption plan that's best suited to your needs. Our agency has more than 30 years of experience, and we've served thousands of birth mothers and adoptive families alike. Prospective birth mothers found fresh starts with us, and adoptive families have realized their parenting dreams.
That's why we've assembled this comprehensive guide on resources for adoption in Overland Park. It includes everything from adoption agencies in Overland Park to court finalization hearings.
If you're ready to begin your adoption journey today, then don't hesitate to call us at 1-800-ADOPTION. American Adoptions of Kansas would love to help you in any way we can. For prospective adoptive families, you can fill out our online form here. For prospective birth parents, fill out our information form here.
Overland Park Adoption Agencies
Even though we're a national adoption agency with office locations nationwide, we're based at 7500 W. 110th St. in Overland Park, KS. In other words, you get the benefits of a national agency without having to sacrifice local expertise. Here are a few of the perks we offer to anyone who work with us:
We would be honored to facilitate your Overland Park adoption, and we know it can be a beautiful journey that leaves you feeling fulfilled and joyful. As experts in local adoption laws, American Adoptions of Kansas can help you complete the adoption process from start to finish.
As one of the best adoption agencies in Overland Park, we'd love to provide you with any support you need. Get free adoption information now to start your journey today.
Overland Park Adoption Attorneys
Both birth parents and adoptive families will need legal representation for the adoption process. Your Overland Park adoption attorney will help finalize the adoption and give legal advice and guidance throughout your adoption journey.
When you select American Adoptions of Kansas as your adoption agency, we will connect you with an adoption attorney. That means you won't have to worry about coordinating legal services alone, so that should take some weight off your shoulders. If you're a prospective birth parent, then it's worth mentioning that adoption financial assistance will cover all your legal fees.
But, for those of you who would like to find an Overland Park adoption attorney on your own, here are some that we recommend:
Overland Park Foster Care Professionals
American Adoptions of Kansas specializes in domestic infant adoption, so if that's the avenue you wish to pursue, then we're the first and only agency you'll need to contact. But, we recognize that there are many ways to build a family, and one of these ways is adoption from the foster care system.
When you're looking at Overland Park adoption agencies, think about how you'd like to start or grow your family. If you're interested in adopting an older child or a child with disabilities, then foster care may be the best path for you. American Adoptions of Kansas facilitates only domestic infant adoptions, so those who want to adopt from foster care will need to work with another professional to get the services they need.
Many children are waiting to be adopted into safe and caring homes, so adoption from foster care is a great way to build your family. For more information on foster care or the foster-to-adopt process, these Overland Park adoption professionals can help you out:
Overland Park Home Study Providers
Any hopeful adoptive parent in the United States must undergo a home study. So, you'll have to work with a Kansas-licensed home study provider for your adoption home study in Overland Park. Make sure that the home study professional you want to work with specializes in the type of adoption you're interested in.
American Adoptions is a licensed home study provider in Kansas, so hopeful adoptive families in Overland Park won't need to worry about finding another adoption professional for this part of the process. Most agencies can't do this part in-house, but we can. Additionally, American Adoptions of Kansas provides Overland Park home study services for families adopting through another agency.
But, if you'd like to research other adoption agencies that offer home study services, then you can find more Kansas-licensed adoption professionals here.
Overland Park Hospitals for Maternity Care and Delivery
For prospective birth mothers considering adoption in Overland Park, forming a birth plan is one of the most significant steps in the adoption process. But, you can rest easy knowing that all costs associated with pregnancy, including delivery and prenatal care, are covered for expectant mothers pursuing adoption.
Although you'll have help and guidance along the way, birth mothers considering adoption in Kansas will get to make all the big decisions. This includes how you want your hospital stay to go, so you will get to choose the hospital that you feel most comfortable delivering the baby at.
Your adoption professional will help you make this decision and create a birth plan that best suits your needs. But, you can always get a head start by researching local hospitals. Here are a few hospitals that are great for expectant mothers choosing Overland Park adoption:
Not only will American Adoptions of Kansas help you create a hospital plan, but we will also help you find the right adoptive family for your baby. There are hundreds of waiting hopeful adoptive families for you to choose from, and that means hundreds of options are available for you. We will also consider aspects such as family values, environment, pets and much more as we help you with your adoption journey.
Overland Park Adoption Finalization Courts
According to Kansas adoption laws, adoption finalization hearings are under the jurisdiction of judicial district courts. For Johnson County residents, this would be the 10th Judicial District Court. This is a short and sweet hearing where the judge will issue the final decree of adoption.
It should be noted that birth parents do not need to be present for this hearing, but it's a requirement for adoptive families.
***
If you would like to learn more about adoption in Overland Park, then call us at 1-800-ADOPTION. Hopeful adoptive families can get more free information now, and prospective birth mothers can fill out our online contact form here. We're looking forward to hearing from you!
Disclaimer
Information available through these links is the sole property of the companies and organizations listed therein. American Adoptions provides this information as a courtesy and is in no way responsible for its content or accuracy.