What is Domestic Adoption in Kansas
Why Choose Domestic Adoption?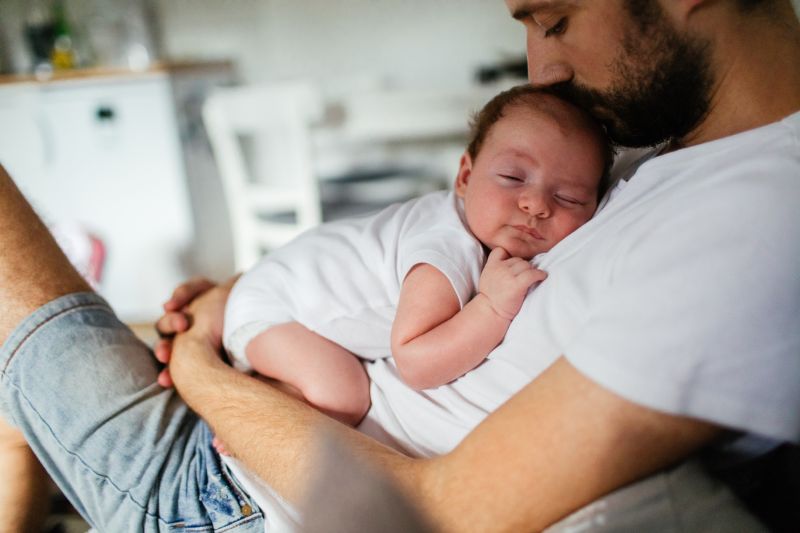 Domestic adoption creates and cultivates beautiful relationships. And every year, American Adoptions facilitates hundreds of adoptions that benefit birth mothers, adoptive families, and adoptees.
For birth mother, Erika, the support of American Adoption professionals throughout the entire domestic adoption process made it possible for her to make a difficult but necessary choice. She said, "Even though adoption was the hardest decision I will ever make in my life, American Adoptions also made it the best decision I've ever made in my life."
This guide will help you understand the ins and outs of domestic infant adoption. Keep reading to find out more, or reach out to one of our Kansas professionals to start your adoption process today.
Types of Adoption Available in Kansas
What is Domestic Adoption?
Private domestic adoption agencies work within the United States to connect prospective birth mothers with hopeful adoptive families. You may also hear this referred to as domestic infant adoption because it involves birth mothers who voluntarily place their baby for adoption with a family of their choice. American Adoptions and other domestic adoption agencies work with both birth mothers and adoptive families to facilitate this process.
Adopting domestically in Kansas with a private agency means that you are interested in bonding with your child from birth and you understand the importance of pursuing an open adoption. You can choose to work with a local agency or a national agency.
National agencies offer shorter wait times, more accurate fee estimates, more comprehensive services, more resources dedicated to marketing and advertising, and a larger staff available to meet your needs. Local agencies sometimes can offer more in-person meetings and more face-to-face interactions with birth mothers. With American Adoptions in Kansas, you get the best of both worlds.
To start your adoption journey with us, contact an expert at American Adoptions today!
What is International Adoption?
International adoption is the adoption of infants and older children from countries outside the United States It is the least popular form of adoption because of the strict and ever-changing regulations in other countries. In fact, there has been a steep decline in recent years in international adoption that has made domestic adoption in Kansas a more appealing pathway to parenthood.
Still, many families have connections to foreign countries and cultures and feel like international adoption is worth fulfilling the extra requirements and withstanding some uncertainty.
To find a Hague-accredited international adoption, contact the following:
What is Foster Care Adoption?
Foster care is the temporary care of a child who has been separated from their family for a variety of reasons. The foster child stays in a foster home while their biological works toward reunification. If efforts toward reunification are exhausted, foster care adoption becomes a possibility.
This option is best suited for families who are excited to care for an older child, a child with special needs, or a child who has experienced traumatic events. Adopting through foster care is significantly more affordable than through private adoption agencies, but the likelihood of adopting an infant is very low.
For further information about foster care adoption in Kansas, contact the following:
What Do Domestic Adoption Agencies in Kansas Do?
Professionals at American Adoptions of Kansas are trained and equipped to provide the support you need throughout the entire adoption process. When you work with us, you will be on the receiving end of deep empathy, wide-ranging experience, and a well of expertise. There will be no need to seek outside services; we'll even provide home study services to you and your family.
Below is an outline of the key services you can expect when you complete a private and domestic adoption in Kansas with us.
Counseling and Education
American Adoption specialists provide you with comprehensive education about the adoption process, and they also extend emotional support to you as you work through some of the difficult decisions inherent in this process.
For prospective birth mothers, they provide:
For adoptive parents, they offer:
Matching Process
American Adoptions in Kansas will work on your behalf to create a quality match that considers the needs of each member of the adoption triad (birth mother, adoptive parents, and adoptee).
For prospective birth mothers, they offer:
For adoptive parents, they offer:
Financial Protection and Support
American Adoption professionals understand the financial stakes involved in adoption – both for the birth mother and the adoptive family – and they work to support and protect both parties throughout the domestic adoption process in Kansas.
For prospective birth mothers, they provide:
For adoptive parents, we proudly offer:
Costs of Domestic Adoption in Kansas
When a family chooses to pursue private domestic adoption in Kansas, they have the choice to partner with an agency or attempt an independent adoption.
A domestic adoption agency is involved in the entire adoption process from beginning to end, helping you complete every adoption requirement. They help adoptive families match with the right adoption opportunity through their dedicated advertising and networking.
Choosing independent adoption means that you must find a pregnant mother and hire an attorney to legally complete the adoption. There are risks inherent to this method of adoption, so families must be cautious and make sure that it is right for their particular situation.
A full-service agency like American Adoptions assesses your needs and offers an honest and transparent estimate of costs. Adoption fees and costs vary based on your specific situation, but we give you a clarity about what to expect financially. And our extensive services and wrap-around support make it worth every penny.
Your money goes toward benefits such as:
Are you ready to start the domestic adoption process in Kansas today? Consult with one of our many adoption experts today!
Disclaimer
Information available through these links is the sole property of the companies and organizations listed therein. American Adoptions provides this information as a courtesy and is in no way responsible for its content or accuracy.