Adoption in Shawnee [Resources]
Court Information, Foster Care and More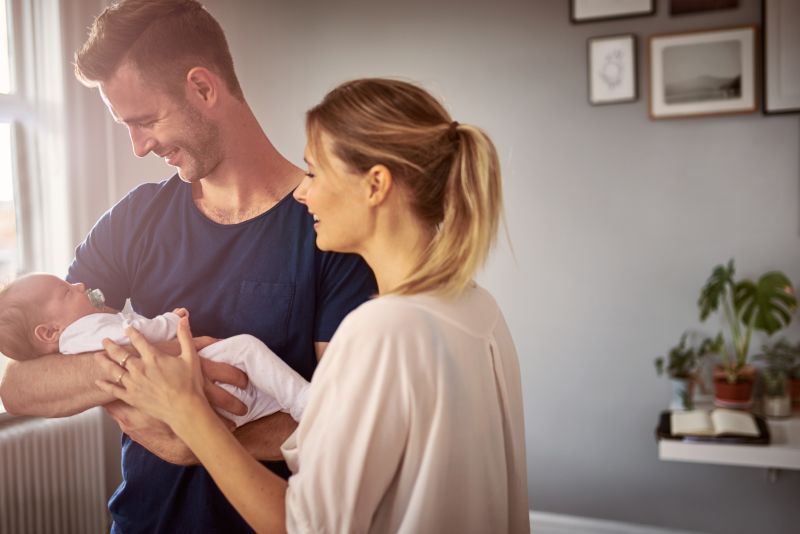 Adoption is a life-changing journey, but it can be confusing, too. There are many moving parts, and it may be difficult to figure out what to do first.
One comforting thing to know is that adoption brings options. There are many ways to approach it, and that gives both prospective birth mothers and hopeful adoptive families more autonomy in the adoption process. And, you're not alone.
There are plenty of reputable agencies eager to help you place your child for adoption or adopt a child yourself. It creates a better future for all parties involved, and the right agency can ease you through your journey smoothly and safely.
When you're considering adoption in Shawnee, know that our experienced team of professionals at American Adoptions of Kansas would love to help you. If you feel ready to begin your adoption journey, then call 1-800-ADOPTION to speak with one of our staff members today. For hopeful adoptive parents, contact us online. For prospective birth parents, you can fill out our information form here.
Shawnee Adoption Agencies
Adoption agencies are designed to give you the services, protection and expertise needed to ensure an ethical and legal adoption. It's one of the most important aspects of the adoption process, as all laws must be precisely followed. But, with the help of an adoption agency like American Adoptions of Kansas, you can rest assured that your Shawnee adoption is being handled with legal care.
When it comes to adoption agencies in Shawnee, American Adoptions of Kansas can help you have the best experience with adoption. We are a fully licensed, full-service national adoption agency, and we're good neighbors with Shawnee. You can find us at 7500 W. 110th St. in Overland Park, KS. We have over 30 years of experience, so we are well-equipped to make sure your adoption process is as stress-free and smooth as possible.
Also, working with American Adoptions of Kansas grants you access to a wide variety of benefits, such as:
Media services for adoptive family profiles
Adoption financial assistance for prospective birth mothers
Connections to other credible professionals
Financial protection for adoptive families
Post-placement support
24/7 support and counseling for prospective birth mothers
Home study services and support
And much more
If you would like to learn more about adoption in Shawnee with our agency, then get free information now or call us at 1-800-ADOPTION.
Shawnee Adoption Attorneys
Just as every state abides by its own adoption laws, so does Kansas. This means that your adoption process must adhere to the state's laws in addition to federal regulations. It can get complicated quickly, so it's best to work with an adoption attorney to make everything less confusing.
When you choose American Adoptions of Kansas as your agency, your adoption professional will coordinate all your legal services. In other words, we'll connect you with a trusted attorney in our national legal network. This takes the burden off of you, so it's one less thing to worry about when it comes to adoption in Shawnee. If you're a prospective birth parent, then there's no need to fret over legal fees or adoption costs because financial assistance will cover them!
But, just in case you'd like to find your own adoption attorney, here are several local attorneys you could consider:
Foster Care Adoption in Shawnee
Though American Adoptions of Kansas specializes in domestic infant adoption, we understand that there are many ways to build a family.
One of these ways is foster care adoption in Shawnee. A key difference between foster care adoption and domestic infant adoption is age. Foster care adoption may be the best path for you if you'd like to adopt an older child. This is because most children waiting to be adopted from foster care are generally older, as the average age is 8 years.
If adopting a child from foster care seems like the right fit for you, then these are some foster care professionals in the Shawnee area:
Shawnee Home Study Providers
For any hopeful adoptive parent, one of the most crucial steps is the home study. You'll need to complete your home study before you can be matched with a child or have your profile shown to birth parents.
When it comes to the adoption home study in Shawnee, you'll need the services of a licensed home study provider. Even though most agencies are not, American Adoptions of Kansas is licensed to provide home studies. In other words, if you work with our agency, you won't have to search for another adoption professional to help you with your home study.
Working with a different adoption agency for placement? American Adoptions of Kansas can still be your Shawnee home study provider. If you'd like to learn more, then contact us now.
Shawnee Hospitals for Maternity Care and Delivery
A significant step for prospective birth mothers is creating the hospital plan. You'll get to decide where you'd like to deliver your baby as well as receive prenatal and maternity care. This is part of your adoption plan, so you'll make this choice alongside your adoption professional, who will guide and help you through the decision.
Many of our staff members at American Adoptions of Kansas are birth parents, adoptive parents or adoptees themselves, so we truly understand what adoption is like because of our firsthand experiences. So, your hospital stay, and your adoption in Shawnee as a whole, should be smooth and safe with our expertise.
When you're researching hospitals, be mindful that adoption financial assistance will cover any pregnancy-related costs. That means you can give all your attention to finding a hospital that makes you feel the most comfortable. Here are a couple of our recommendations:
On top of helping you create a hospital plan, American Adoptions of Kansas also helps you find the right adoptive family for your child. Because there are hundreds of waiting hopeful adoptive families working with us, there are hundreds for you to choose from. We will also consider facets such as siblings, pets, religion and more as we guide you through your beautiful adoption journey.
Shawnee Adoption Finalization Courts
The final part of any hopeful adoptive parent's journey is adoption finalization. This happens approximately six months after placement. It's a short and sweet court hearing that will probably take place at a Johnson County Courthouse location. The judge will issue the final decree of adoption, and your new family will become official.
Birth parents don't need to attend the hearing, but it's mandatory for the prospective adoptive parents.
***
Do you feel ready to begin your adoption journey today? If so, then give us a call at 1-800-ADOPTION to speak with one of our adoption professionals. You can also get more free information now for both prospective birth parents and hopeful adoptive parents.
Disclaimer
Information available through these links is the sole property of the companies and organizations listed therein. American Adoptions provides this information as a courtesy and is in no way responsible for its content or accuracy.