5 FAQs and Answers about LGBTQ+ Adoption [in Kansas]
Your Guide to LGBTQ+ Adoption in Kansas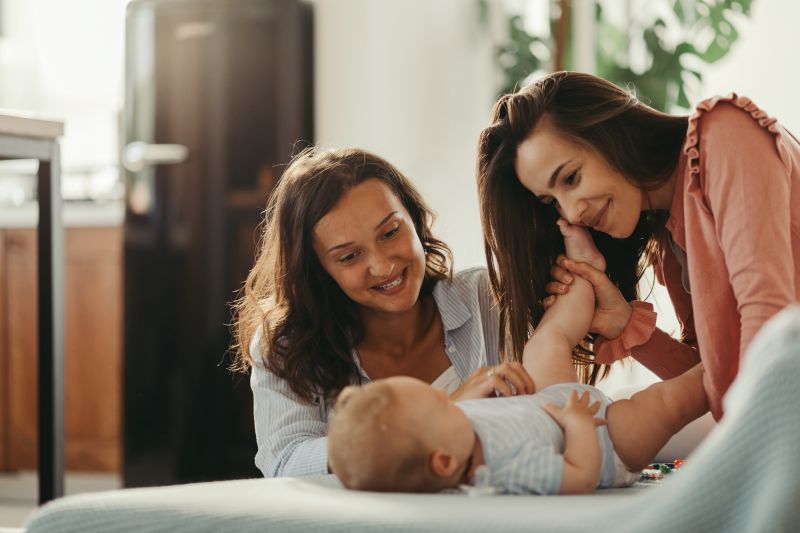 There's an unequivocal truth to any type of adoption: love is love.
Because we believe in this universal statement, American Adoptions of Kansas proudly and fully supports LGBTQ+ adoption. We have provided services for many Kansas same-sex adoptions before and helped them complete their adoptions. It's truly an honor to be able to bring families together, regardless of the prospective parents' sexual identities.
Our process for assisting LGBTQ+ families is similar to our process of helping heterosexual couples. We are dedicated to providing fair, non-discriminatory services to all adoptive parents. Adoption is also a fantastic way for LGBTQ+ couples to realize their parenting dreams.
Statistics show that LGBTQ+ parents raise 4% of adopted children and 3% of foster children. There are 2 million LGTBQ+ people have an interest in adoption.
So, we've put together this guide on Kansas same-sex adoption. We explain how LGBTQ+ adoption works in Kansas and answer five common questions. We've got you covered on everything from how LGBTQ+ adoption works in the state to Kansas laws on gay adoption. For more information, call us at 1-800-ADOPTION to speak with one of our adoption professionals.
How Gay Adoption in Kansas Works
The process for LGBTQ+ couples in Kansas is the same as anyone else. Adoption can be a beautiful way for LGBTQ+ partners to start or grow their families.
Since 2016, it has been illegal to ban same-sex couples from adopting. As a result, LGBTQ+ couples are allowed to work with any adoption agency they choose as long as it meets each agency's requirements. Some adoption agencies in Kansas require marriage.
This is why LGTBQ+ couples must research the adoption agency that they plan on working with. Here are a handful of topics to bring up when meeting with your adoption professional:
See if the agency has helped complete a Kansas same-sex adoption before.
Ask staff members what counseling or support they provide for LGBTQ+ prospective parents.
Ask them what the wait times are for both heterosexual couples and LGBTQ+ couples.
Ask the agency if they have always supported Kansas same-sex adoption, or if they only recently changed their position.
With American Adoptions of Kansas, we not only offer short wait times, but we have also assisted many LGBTQ+ couples with completing their adoptions.
"It can be frustrating for many people – it was for us – that in the beginning you have to do so much preparation and training and read through these different things and talk about what your preferences are, but in hindsight that was helpful," Joe told us. "We had a framework with which to make decisions later on."
If you'd like to read more stories about what it is like to work with American Adoptions for your Kansas same-sex adoption, click here.
Common Questions about Kansas Same-Sex Adoption
Because LGBTQ+ couples still face many barriers, many LGBTQ+ couples have had to fight for the right to adopt. Thankfully, same-sex marriage and same-sex adoption are legal in all states, including Kansas. But, due to the institutional and legal obstacles that LGBTQ+ people have historically faced, a few uncertainties surround the subject.
It's completely normal for you to have questions, and we want to help. Below are five common questions about gay adoption in Kansas, as well as detailed answers for each.
1.Are There Kansas Laws on Gay Adoption?
As you may have known, same-sex marriage in the United States has been legal since the federal marriage equality ruling in 2015. The following year, Mississippi became the final state to overturn laws banning adoption for LGBTQ+ couples. With these two rulings combined, this court decision also protects the rights of LGBTQ+ couples to adopt anywhere in the United States. As a result, this includes Kansas.
So, there are legally no restrictions on Kansas same-sex adoption. As of January 2020, any adult or married couple may adopt any child or adult in the state of Kansas.
It should be mentioned, though, that there is some legislative action that permits some organizations to deny service to LGBTQ+ individuals based on religion. Research the adoption agency you're working with to make sure they wouldn't deny you service. American Adoptions of Kansas, however, takes pride in working with LGBTQ+ families.
2.Can Gay Couples Adopt in Kansas?
Because no laws are restricting or prohibiting gay adoption in Kansas, any adult or couple can adopt in Kansas regardless of sexual identity. Generally speaking, the process for LGBTQ+ adoption in Kansas is no different than it is for heterosexual prospective parents.
At American Adoptions of Kansas, our wait times, program and costs are all the same for LGBTQ+ parents as they are for heterosexual couples.
3.When Was Same-Sex Adoption in Kansas Legalized?
When same-sex marriage was federally legalized in the summer of 2015, married LGBTQ+ couples were also allowed to adopt in Kansas. Since its initial legalization, LGBTQ+ adoption has continued to increase nationwide. Although attitudes toward Kansas same-sex adoption are improving, prejudice and discrimination are unfortunately still present.
Though gay adoption in Kansas is completely legal, LGBTQ+ prospective parents need to prepare to speak with their children about the many different types of families and how they can combat any negativity.
4.Was There a Kansas Gay Adoption Ban?
Until the federal ruling that legalized same-sex marriage on a national level, same-sex adoption laws in Kansas were prohibitive. It wasn't until June 2015 that the Kansas laws on gay adoption shifted.
Even though there is no longer a Kansas gay adoption ban, there are still quite a few false ideas surrounding the effects of LGBTQ+ adoption on children. According to research on gay adoption facts and same-sex adoption statistics, there aren't any major differences in the development of gender or sexual identity between children of LGBTQ+ parents and children of heterosexual parents. It has also been found that LGBTQ+ adoption does not have any negative effects on children.
5.Are There LGBTQ-Friendly Adoption Agencies in Kansas?
Since 2016, it has been illegal to ban LGBTQ+ adoption. From a technical standpoint, LGBTQ+ couples can work with any adoption agency. Sadly, not every adoption agency is LGBTQ+-friendly. LGBTQ+ adoption agencies are professionals that are excited to serve LGBTQ+ couples and have successfully helped them before.
American Adoptions of Kansas is proud to provide adoption services to LGBTQ+ hopeful parents. There are even some things that American Adoptions of Kansas can do that no other agency can. We work with many prospective birth parents at the same time, which decreases the average wait time for LGBTQ+ parents. Additionally, many members of our staff are adoptees, adoptive parents and birth parents. We have personal and professional experience with the Kansas adoption process, which means you'll find the best support and guidance with our agency.
This would be another good place for a quote from that testimonials link above.
***
Thousands of LGBTQ+ couples have realized their parenting dreams through the adoption process. When you feel like you are ready to begin your adoption journey, American Adoptions of Kansas is here to help you. Don't hesitate to call us at 1-800-ADOPTION or get free adoption information now.
Disclaimer
Information available through these links is the sole property of the companies and organizations listed therein. America Adoptions, Inc. provides this information as a courtesy and is in no way responsible for its content or accuracy.